More than 2,200 volunteers from Saint Albert the Great Parish and School participated in the church's annual Service Day, performing projects that ranged from preparing and delivering meals to the homebound to assembling earrings for women undergoing chemotherapy to cleaning up parks to painting pumpkins for veterans.
The two-day event, now in its sixth year, has steadily grown in volunteers since it began, said Saint Albert the Great Services and Volunteer Coordinator Denise Bobulsky. During a preliminary sign-up event in September, 1,400 people registered to perform service projects and the numbers only climbed from there.
"Our very first year we had about 750 volunteers and now we're over the 2,200 mark," Bobulsky said. "The projects themselves remain the same each year, we just keep adding more."
Volunteers had their choice of about 200 various service projects they could sign up for. Projects took place at manned sites throughout northeast Ohio and on the parish grounds, like the home cooked meal and bingo for seniors in the parish hall. This year, Parish Service Day occurred on Oct. 12 and 13.
The event also incorporated an inaugural visit from the students of Cleveland's Saint Aloysius School. Saint Albert the Great School students volunteered their time Oct. 12 to give their visitors a first-hand look at the newly opened Learning Commons. The savvy space housed in a remodeled section of the school's library incorporates a technology "Maker Space," broadcasting studio, a 3-D printer and traditional library tools.
"It's a really good thing for our students to see alternative educational opportunities rather than what's offered in the traditional classroom," said Saint Aloysius Music Teacher Harmon Hill.
The visiting school students worked side-by-side with Saint Albert students learning how to put on a live TV broadcast, create an electric circuit and perform other STEM projects.
"The students are really having fun and one even asked me if we could do this every month, invite another school out to learn about the Learning Commons," said Jodi Meinberg of Saint Albert the Great School. "It's more than just doing a project, it's really about seeing how people work together to create something."
Over in the parish hall, other volunteers were working to craft no-sew fleece blankets for veterans, those in hospice, the Parma Animal Shelter and the Christ Child Society of Cleveland's network of homeless shelters. Another project called for the sewing of "Quilts of Valor" distributed to men and women who served in combat.
Youth Ministry Coordinator Katie Srsen helped oversee Saint Albert students serving meals and refreshments to seniors and announcing bingo numbers.
"There's really a lot our younger generation can learn from spending time with the older adults and the same for the older adults learning from them and their experiences," she said.
There were also several homebound service projects calling for volunteers to perform yard work, house cleaning and other tasks at residences throughout the area. Another large portion of projects called for the preparation and distribution of thousands of outreach meals and brown bag lunches at sites throughout Greater Cleveland.
"My favorite aspect of Parish Service Day is seeing our volunteers," Bobulsky said. "You see a difference in them. You've given them the opportunity to experience something outside of our four walls and learn something about our brothers and sisters in need. It's a sharing of who we are. The kids particularly energize me in the sense that you see the happiness in them. The really cool thing is when graduating eighth graders bring up the fact that they participated in Parish Service Day and you hear what it meant to them. It's an opportunity to bond among our community."
To culminate the annual event, Service Day volunteers wore their commemorative tee shirts to weekend masses and joined in a social reception in the church hall.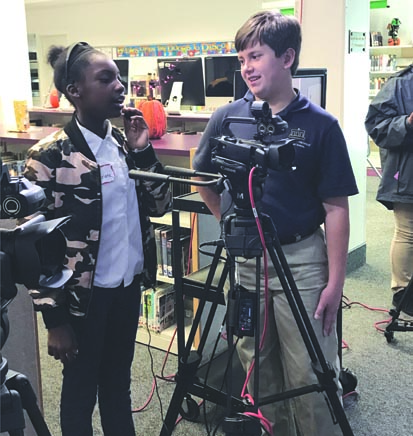 By SARA MACHO HILL
Contributing Writer