All 344 veterans buried in North Royalton Cemetery now have an ornate balsam fir wreath adorning their gravesite thanks to the City's participation in Wreaths Across America.
Dec. 14 marked North Royalton's first time taking part in the national program that honors the fallen by placing donated wreaths on the graves of veterans at cemeteries across the country. Wreath-laying ceremonies are held on the same day and at the same time – noon – in all 50 states, at sea and abroad.
Cortney Abbe, a resident of Rocky River and a member of the AT&T Pioneers volunteer network, coordinated North Royalton's event alongside fellow Pioneer Kevin Lynch of North Royalton who also served as Master of Ceremonies, Mayor-elect Larry Antoskiewicz and Director of Recreation and Cemetery Working Foreman Jason Swim. State Rep. Tom Patton was also in attendance.
"It's not how they died, but rather how they lived, a life of service defending our freedom," Patton said, as he took a turn addressing the crowd.
North Royalton's ceremony included touching remarks by Lynch, a moment of silence, the Color Guard of American Legion Post 703, the dedication of ceremonial wreaths representing each branch of service including Army Veterans, Marine Corps Veterans, and those who served in the Navy, Air Force, Coast Guard, Merchant Marines, and Prisoners of War and those Missing in Action, a 21 Gun Salute and formal dismissal.
Gathered volunteers, many of them members of Boy Scouts and St. Basil's Troop 652 for Girls, then dispersed to various sections of North Royalton Cemetery to place wreaths on veterans' graves. Volunteers were encouraged to say each veteran's name aloud and take a moment to thank them for their service. Cold, pelting rain and 30-degree temps didn't stand in anyone's way.
Another heart-warming part of the story are the wreaths themselves, which were all purchased and sponsored by various local individuals via a sign-up form or the "Wreaths Across America" website. The wreaths arrive at North Royalton City Hall from Maine, specifically the Worcester Wreath Company. Volunteers from trucking companies across the nation pick up various routes and hand-deliver the wreaths to local event organizers. The owner of Worcester Wreath Company, Morrill Worcester, first started the tribute in 1992, after the company found itself with a surplus of 5,000 wreaths at the near-end of the holiday season. Worcester reflected on a trip to Arlington National Cemetery he took as a 12-year-old boy delivering the Bangor Daily News. He arranged for the wreaths to be placed at Arlington National Cemetery. Many organizations stepped up to help, including a local trucking company and volunteers from the local American Legion and VFW Posts.
"The annual tribute went on quietly for several years, until 2005, when a photo of the stones at Arlington, adorned with wreaths and covered in snow, circulated around the internet," according to the 'Our Story' section of the Wreaths Across America website. "Suddenly, the project received national attention. Thousands of requests poured in from all over the country from people wanting to help with Arlington, to emulate the Arlington project at their National and State cemeteries, or to simply share their stories and thank Morrill Worcester for honoring our nation's heroes."
In 2019, "Wreaths Across America" and its national network of volunteers placed more than 1.5 million wreaths at 2,095 locations and North Royalton now joins the ranks.
"I'm surprised at the crowd but really I'm not," Antoskiewicz told those gathered Dec. 14 for the noon event. "Everyone in North Royalton always really steps up."
Event coordinator Cortney Abbe echoed Antoskiewicz's sentiments.
"The more I read about Wreaths Across America and the more I get involved, the more it awes me at how generous everyone is," she said in the days leading up to North Royalton's inaugural event. "We honor and remember our veterans, and their family members, and we thank them for their service. No one expects to go into war and lose their life, and sometimes I think, by no fault of anyone, that people get forgotten after a while. Wreaths Across America ensures that their legacy lives on."
The 344 veterans, a figure provided by both Antoskiewicz and Swim, buried in North Cemetery have truly remarkable histories. The cemetery contains Revolutionary War soldiers, most notably the final resting place of John Shepard, who died at age 117 and is believed to be the longest-lived veteran of the Revolutionary War.
The mission of Wreaths Across America: to "Remember our fallen U.S. Veterans, Honor those who serve, and Teach children the value of freedom," rang true Dec. 14 at North Royalton Cemetery as young people like 12-year-old Ella Krogman walked the solemn grounds with her mother. She quietly stood at the grave of Veteran John Sindelar, born in 1877, and placed the beautiful fir wreath on a stand.
"I decided to volunteer today as a way to show my respect and appreciation because I know our freedom isn't free," she said softly.
Jarin Warner, 15, of North Royalton, participated with fellow Boy Scout Owen Anderson, 14, of Brunswick.
"Our veterans worked so hard and this is a way to keep their memory alive," Warner said.
Volunteers are welcome to join in a special wreath removal service on Jan. 12 at 1:30 p.m. Wreaths Across America 2020 is set for Dec. 19, 2020, at noon in North Royalton Cemetery. Visit wreathsacrossamerica.org to learn more.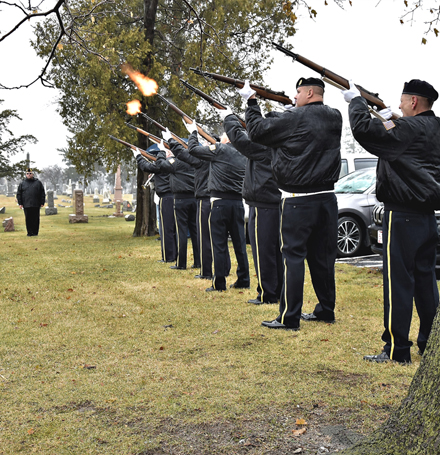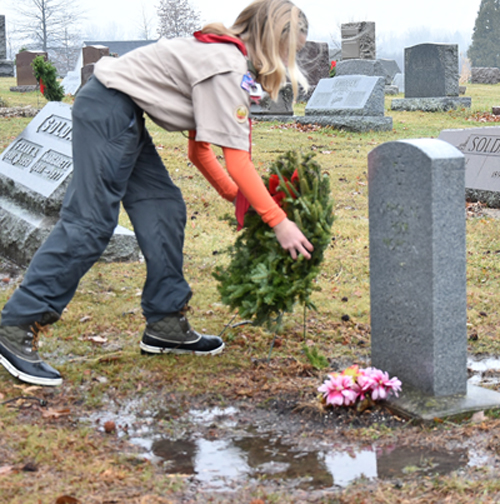 By SARA MACHO HILL
Contributing Writer