Keep Us In Stitches is one of the several service clubs in North Royalton that use their time and talent for the benefit of others. Keep Us in Stitches is an organization that whose special talent is quilting. They make and donate quilts to others.
Many people have heard the term, barn raising or quilting bee. In the late 1700s and through the 1800's neighbors, especially pioneer neighbors who lived miles apart would gather to complete a task to help one another out. You've probably heard of barn raisings, where farmers would raise the structure of a barn in a day. A quilting bee would be similar. A bee is a late 18th century word for party or social gathering. It was a chance to socialize, hear the gossip and help someone begin or complete a quilt. Back in those days no scrap of fabric was wasted. After an article of clothing was made the scraps could be recut to become part of a pattern for one block of quilt design. Quilts, of course, are covers of traditional bedding. They keep us warm and toasty in the winter or protected from a slight chill.
A traditional quilt has three layers: top design, the batting or warm part in the middle, and the backing. The bottom part, usually one whole piece of cloth is laid out on a flat board or table the second layer, cotton batting, is laid out on that, then the colorful pattern part is laid out on top. All three layers are smoothed and aligned to make a sandwich ready to be quilted or stitched together. After the binding is sewed it's ready to begin its life as a comforting, warm, colorful coverlet someone will love.
Keep Us In Stitches continues this time-honored true art form. Every patch they make, every stitch they take, the ladies and one gentleman of the organization use their eye for color, love of design, creativity, and sewing machines to make a thing of beauty to give away. Yes, they spend all their time making something to give away. Each year the group gives away approximately 250 quilts, all completely hand-made, no two are ever alike. The quilts go to patients undergoing chemo, children who find themselves in emergency foster care, lap robes for Vets at the VA, quilt pockets like saddle bags for walkers on the move, and tactile 'fidget' quilts that include loops, tags, and bumpy textures that are very helpful to Alzheimer's and dementia patients.
A quilt is a work of art and many people have a hand in putting it together. In 2019 Keep Us In Stitches created a red, white, and blue queen-sized quilt that was entered in the Stark County Fair. Every single member contributed to its creation. It won best in show and first prize. The quilt was donated to the Stark County Veterans administration.
Keep Us In Stitches regularly meets on the third Monday of each month at the North Royalton Library, 5071 Wallings Road. Their next scheduled meeting is April 20, at 6:30 pm. On Saturday May 9, they will be showing their sewing skills in the same library from 10 a.m. until 2 p.m., but please call first to make sure these dates are still correct.
Quilting is a true folk art that is practical and a delight to the senses. New members are always welcome at any skill level, even if you've never even threaded a needle there is something you can do. For more information about Keep Us In Stitches call Shirley Marcinko at 440.237.9209 or email at smmarcinko@aol.com. They would like to keep you in stitches too.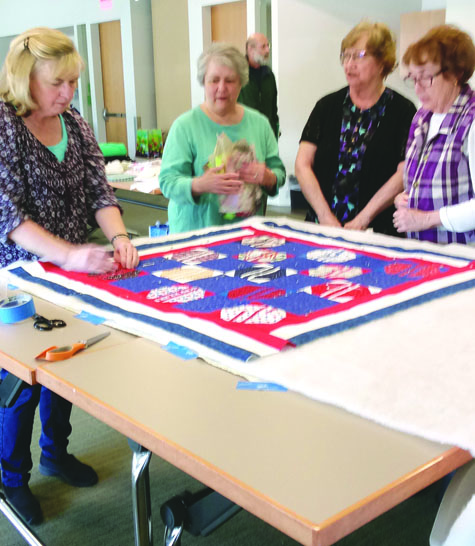 By LINDA KWARCIANY
Contributing Writer