Chamber members and guests gathered at Carrie Cerino's Ristorante on Wednesday, March 15, for the North Royalton annual State of the City Address, sponsored by the North Royalton Chamber of Commerce.
Mayor Bob Stefanik began by talking about the city's financials, stating that "we're in a pretty good financial position." Stefanik spoke of the Moody's Investor Services credit rating for the city of Aa2, which 56 other Ohio cities have attained. The lesser, Aa3 rating was attained by 96 cities; Aa1 by 23 cities and Aaa by 15 cities in Ohio. North Royalton has $15,558,273 in debt, compared to the total debt limit of $87,156,393. North Royalton falls within the bottom five cities in the county for property taxes, even when the state continues to cut state shared taxes. Since 2011, cuts in Estate tax, State Local Government funding and Tangible Personal Property Tax has equated to a reduction of 1 to 1.5 million in funding to the city's general fund.
Stefanik was proud to note that North Royalton was rated the #1 Safest City by the Cleveland Magazine in 2016, saying that "the number one priority of any city is to provide for the health, safety and welfare of the community. We are able to achieve that goal by continuing to train our police officers and firefighter/paramedics in the latest safety related techniques and provide them with the latest and best equipment to carry out their duties." He then went on to talk about the various training and updates that were taking place. Stefanik congratulated Police Chief, John Elek, who retired on March 17. Elek has been a member of the North Royalton Police Department for 33 years.
"We continue to invest in our municipal buildings and ground in an effort to maximize the longevity and useful life of those buildings," said Stefanik. He then highlighted some of the maintenance projects that have taken place, such as new roofing and HVAC at the police department, improvements at the fire department Station One, roof improvements at the YMCA, new sidewalk in front of the cemetery and Memorial Park improvements.
Stefanik then talked about the old City Hall, at Bennett and Ridge Roads. The old city hall is scheduled to be torn down, as the rehabilitation of the building is cost prohibitive. He showed a concept plan and artist renderings for a new pavilion design that is being considered and called it the last piece of the puzzle of city buildings that needed renovation or replacement. Stefanik then noted that in order to complete the overall community, the schools needed to be next. With that, he turned the presentation over to School Superintendent, Greg Gurka.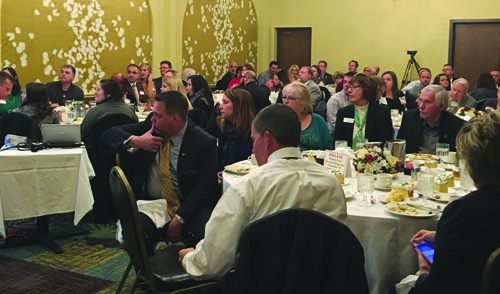 "As one of the largest cities in Northeast Ohio, the City of North Royalton is a strong and vibrant community. As the Mayor says, we have a new City Hall, new library, new YMCA and we can all be proud of the many completed capital improvement projects. Beautification efforts continue for our center of town, homes and businesses. And the North Royalton City School District is another source of pride that provides a great value to our community," said North Royalton School Superintendent Greg Gurka. He began his portion of the presentation by stating "North Royalton Schools provides a great value to our community." Out of 31 school districts in Cuyahoga County, it is in the bottom 23% in effective millage. He noted that even if Issue 11 passes in May, North Royalton will still be the 9th lowest in effective tax rate in the county.
Gurka noted that "despite our student, staff and district successes, our schools face an urgent problem that cannot be ignored. Our school buildings are in dire need of updating and major repair. Maintenance costs continue to rise while efficiency is decreasing. We cannot provide excellent education in the facilities as they exist today." He went on to highlight some of the problems in each building and went on to talk about the Issue 11 bond issue, set for the May 2 ballot. Some of the facts of Issue 11 highlighted were that it is a plan for renovated and new schools, including modern systems that will save the district $1 million per year in operating expenses. The state will contribute $3.5 million to the project. Repairs and renovations will be made to the Middle School and High School and one new elementary school will be built, replacing the three existing buildings. By law, none of the monies collected from Issue 11 can be used for anything but the renovation and new building, and vital equipment. Classroom and learning technology will be upgraded to ensure college and workforce readiness for students. New climate control systems will allow for a better learning environment, as well as being more cost efficient. The newly renovated district will improve property values, as well as the image and reputation of the community. The cost to the taxpayers for this issue will be $9.04 per month for every $100,000 in home valuation.
Gurka then went on to talk about what will happen if the bond issue does not pass. (See Bond issue story). He noted that a detailed outline of the entire plan can be found at www.northroyaltonsd.org/bondissue.aspx. He noted that some of the items that will not be addressed if the bond issue is not adopted include asbestos removal, ADA issues, fire/security alarm systems, plumbing, safety sprinklers, technology infrastructure, lighting/furniture/flooring, and overall asphalt/concrete replacement.
"One of the first things buyers look for in a community is strong and stable schools with safe, cost-efficient, updated buildings that provide student-center learning to prepare our children for the future," concluded Gurka. "Our house is our largest investment." Gurka noted that every choice has a cost associated with it. He invited residents to take part in a survey regarding the bond issue at www.surveymonkey.com/r/noroemail. "We are asking residents to take a few moments to complete this survey so we know how to direct our efforts when communicating Issue 11 to residents. Our focus is to get all stakeholders together and ask them for their support and endorsement of Issue 11. So far, the response has been overwhelming and people we have not heard from before are now involved in the campaign because they realize the importance of Issue 11 and the urgency for our schools and the urgency for our community."
By GLORIA PLEVA KACIK
Contributing Writer