Nostalgia was the theme of the 2018 Olde-Timers Banquet held at the Royal Redeemer Lutheran Church on Saturday, August 18. The luncheon saluted those who are70 years old and have lived in North Royalton at least 30 years during the city's 200 years of existence.
More than 200 'olde-timers' attended the luncheon. The olde-timers got to sing "Happy Birthday" to North Royalton and watch Mayor Bob Stefanik blow out three candles that said '200'.
"Everybody is here to celebrate North Royalton and what they have done in the city in their past," said the Mayor. "Especially during this bicentennial year, I think it's important that everybody gets together and remembers the good old days."
"It's one of the events that I enjoy coming to the most," said North Royalton City Council President Larry Antoskiewicz. "This brings me to the residents that have lived here the longest, and I continue to get more and more knowledge about all the things that used to go on compared with what is happening now. It's always a pleasure when I talk with the senior residents of the city."
Among the olde-timers who attended the luncheon was a Sprague Road resident who has lived in North Royalton for the past 68 years. Her name is Johanna Chmura. She remembers North Royalton being 'very rural' in the 1950s. "I remember seeing cows, chickens and ducks just outside of our house. I remember the milkman coming to our house a couple of times a week to deliver milk. There are more houses today than there were back then." Mrs. Chmura was born in Germany, came to Cleveland and eventually moved to North Royalton.
There is one part of 21st Century life that North Royalton olde-timers can do without and that is traffic. Tom Putynski moved to North Royalton from Cleveland when the Illuminating Company was building a transmission line near State Road. Tom liked the quiet when he moved here over 40 years ago. "I wish North Royalton had a more country feel to it and less traffic." Nowadays, Tom spends a lot of his days mowing his lawn. "I should have bought a smaller lot," said Tom with a smile.
Tom and Eileen Bunevich live on Ridge Road and they can tell you first-hand about traffic. "Sometimes it may take us 2-to-3 minutes to get out of our driveway. We put in a turnaround that helps out. But, if we have to make a left turn to get onto Ridge, sometimes the turnaround helps, sometimes it doesn't."
Fellow Ridge Road residents, Charles and Janet Pekar, who have lived in North Royalton for more than 40 years, agree that there is "lots of traffic" outside their home. Plus, the Pekars remember when there were no sidewalks on Ridge Road.
The Olde-Timers luncheon is sponsored every year by the Royalton Hills Lions Club. "We want to give back to the community that does so much for us. One of the major missions of the Lions Club is to serve. We serve our community. We serve the sight impaired. We do this event every year as leaders in our community. The people who are here helped to build North Royalton," said Club President Jackie Grimm.
If you want to feel good about living in North Royalton, Royalton Redeemer Senior Pastor Reverend John Zahrte, a 'newbie' to North Royalton, called our city "an amazing place. I love being part of North Royalton."
We agree!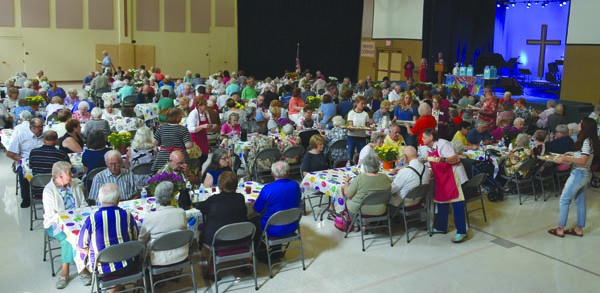 By JOE JASTRZEMSKI
Contributing Writer