"I come every Memorial Day Ceremony to remember my brothers and sisters. I served in the Gulf War. I lost a number of friends and comrades. I'm here to remember not only those who died but those who served".
These are the words of Reese Boone who attended both Tributes on Memorial Day in North Royalton. The first tribute was at the Veterans Memorial at the North Royalton Cemetery located on Royalton Road. The second tribute took place at the Marine Corporal Jeffrey Boskovitch Memorial on the City Green on Ridge Road.
North Royalton City Council President Larry Antoskiewicz began the Ceremony at the Cemetery by thanking the deceased military veterans and those who returned home. "You honor our nation with your service."
"We need to live for what those men and women died for," said Tim Zvoncheck, commander of Veterans of Foreign Wars Post 3345. "We need to pass this knowledge along to the next generation. This has taken place every Memorial Day or Decoration Day since 1866. There is no freedom without honor, courage, commitment and bravery."
Tim Becca attended the Cemetery tribute with his young son, Kenny, and said, "When I was growing up, my dad brought me to this ceremony every year to honor the veterans. I want to continue this tradition with my son." Tim said that while he doesn't have any relatives in the military or any friends that served, "It's still important that we remember those who gave us our freedom."
After the tribute at the North Royalton Cemetery was completed, many in attendance walked west on Royalton Road, then north on Ridge to the Boskovitch Memorial for the Fallen Hero's Memorial Ceremony. The event was presented by North Royalton Veteran Liaison Wally Ohler and VFW Post 3345. There was a special presentation that honored 14 Vietnam Veterans who passed away since Memorial Day 2018.
"This ceremony is always really heavy on my heart," said Ohler, who served in Vietnam from 1964 through 1970. "I am drained every time we honor those who have worn the uniform. I feel their pain when they tell us their stories and when we learn about their families. I am on a journey, along with my band of angels. These angels give me their strength."
After saluting the deceased Vietnam Veterans, Ohler asked that those who gathered around the Boskovitch Memorial to step forward and honor those military men and women who gave their lives in service to our country by placing a carnation on the Memorial itself.
The Tribute ended with a bagpiper playing "Amazing Grace" as he walked away from the Boskovitch Memorial.
Janet Pavlic attended both Tributes on Memorial Day. "I come every year to honor those who made the ultimate sacrifice, including my father-in-law who died in the Pearl Harbor attack."
If you didn't attend this year's Tributes at the North Royalton Cemetery or the Boskovitch Memorial, start a new individual or family tradition on Memorial Day 2020.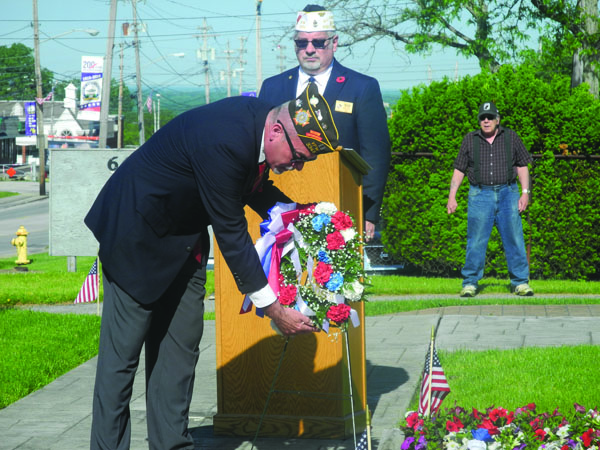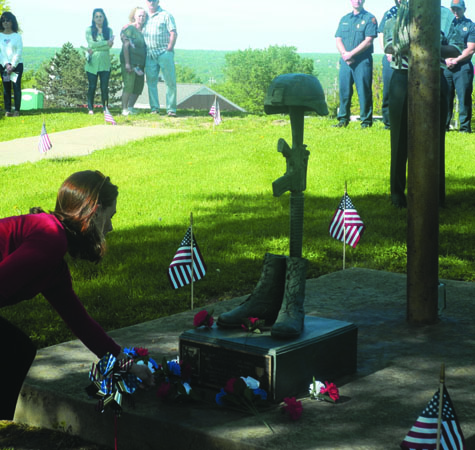 By JOE JASTRZEMSKI
Contributing Writer