The May meeting of the North Royalton Board of Education took place on Monday, May 13.
Reno Contipelli, from the Ohio School Board Association presented an OSBA Master Board Member award to North Royalton School Board member Jackie Arendt. He noted that only four of these awards were given in the state. He also praised the other Board members for their efforts of continuing education, which is voluntary. Board President Dr. John Kelly and Vice President Anne Reinkober both earned the honor of the OSBA's Award of Achievement, which recognizes their commitment to training and leadership activities on their Boards of Education and region in addition to statewide OSBA activities. Board member Heidi Dolezal was recognized for 20 years of service on the North Royalton School Board, and 13 years on the Cuyahoga Valley Career Center Board.
Students from Albion, Royal View and Valley Vista Elementary Schools were recognized for being "Principals of the Day." Albion Elementary first-grader Thomas Ensor, Royal View Elementary first-grader Anderson Kubec and Valley Vista Elementary third-grader Ariana Kendren were recognized. The students shadowed their principals, helped supervise bus arrival and dismissal, observed classrooms and met with staff to better understand their responsibilities. They also got to do the morning announcements and be involved in a working lunch with Superintendent Greg Gurka.
Middle School Assistant Principal, Erin Calabrese introduced eighth-grade student Casey Charles as the annual John Shepherd Scholarship recipient, which funded his trip to Washington D.C. He won the scholarship with his essay about North Royalton resident, John Shepherd, the oldest surviving soldier from the Revolutionary War.
Also, fifth-grade English/Language Arts teacher Alison Novosel recognized Power of the Pen competition recipients, eighth-grader Casey Charles and seventh-graders Allison Krzywicki, Shivam Pandya and Rasleen Rai. The seventh-grade team won the first place team title at Black River Middle School. The team included Leah Groves, Allison Krzywicki, Gabriella Lascu, Shivam Pandya, Rasleen Rai and Amulya Tiralapuram.
North Royalton High School Sophomore Nick DiSisto was recognized for winning the 2018 Congressional App Challenge for the 16th District of Ohio. He won with an app he created called iFixedIt and was recently recognized in Washington, D.C.
PTA Reflections contest winner were recognized This year's theme was "Look Within." Students submitted their works of art in the available arts categories: Dance Choreography, Film Production, Literature, Music Composition, Photography and Visual Arts. The following students won awards:
Literature – Rebecca Pavelich, 11th grade– Rebecca earned third place at state Visual Arts – Allison Krzywicki, seventh grade Literature – Amulya Tiralapuram, seventh grade – Amulya earned second place at state Photography – Allison Krzywicki, seventh grade
Music Composition – Alyssa DeAngelis, sixth grade – Alyssa earned honorable mention at state
Visual Arts – Naisha Chopra, fifth grade – Naisha earned a third place at state
Literature – Alexandros Velkos, fourth grade Albion
Photography – David Visocky, fourth grade Royal View
Dance Choreography – Ella Haley, third grade Albion – Ella earned a third place at state
Film Production – Nyah Rain Palmer, fifth grade – Nyah earned a third place at state
Visual Arts – Nathan Olman, first grade Valley Vista
Literature – Claire Crucitt, first grade Valley Vista
Photography – Thomas Ensor, first grade Albion
The Board approved the 2019 five year forecast.
The Board renewed the contract, effective August 1, 2018 through July 31, 2021.
The Teacher of the Year for the 2018-2019 school year was presented to Kelly Tesar. Dawn Filippi was recognized as the Support Staff Person of the Year for the 2018-2019 school year.
The Board also honored Tom Sargent as the Friend of Education for 2018-19. School Superintendent, Greg Gurka noted that this annual award goes to a person or persons who significantly contribute to North Royalton City Schools, help inspire and empower students, and dedicate themselves to making North Royalton and Broadview Heights great places. Sargent is a parent and a North Royalton Fire Department firefighter and paramedic who has served North Royalton City Schools for more than 20 years. He is well known for chaperoning field trips of all kinds, from Washington, D.C., band trips and seventh grade field trips. "Tom has done this out of the goodness of his heart for well over two decades. He truly does whatever is asked while working with our students on these field trips. He will open up his wallet to a student who maybe lost his, but more importantly, is always willing to open his heart to any child in need," said Principal Jeff Cicerchi, North Royalton Middle School."
The Board approved the following agreements: Sheakley UniService, Inc. for TPA (Third-Party Administrators) services for the 2019-20 school year as part of the Ohio School Council Workers
The Board authorized a contract with Fulton and Associates for testing and balancing services for the High School VAC system in an amount not to exceed $58,500.
The Board accepted and acknowledged the following gifts and donations:
"-The North Royalton Soccer Association donated $250 to each of the following buildings for use of their gym/stadium/soccer field for practices: North Royalton High School, Albion, Royal View Elementary, and Valley Vista Elementary.
-Kathy Bradford of Broadview Heights donated $75 worth of books to the library at Royal View Elementary.
-Kara Rees of Broadview Heights donated $75 worth of books to the library at Royal View Elementary.
-Aggie's Pizza donated two sheet pizzas, valued at $45.90, to North Royalton High School for the Glo Ro dance.
-Don Filips donated $25 to North Royalton Middle School for a student co-curricular fee.
-John W. Sprecher of North Royalton donated $300 to the baseball club at North Royalton High School."
The next monthly Board meeting will take place on Monday, June 10, at 7 p.m. at the Royalton View School gymnasium.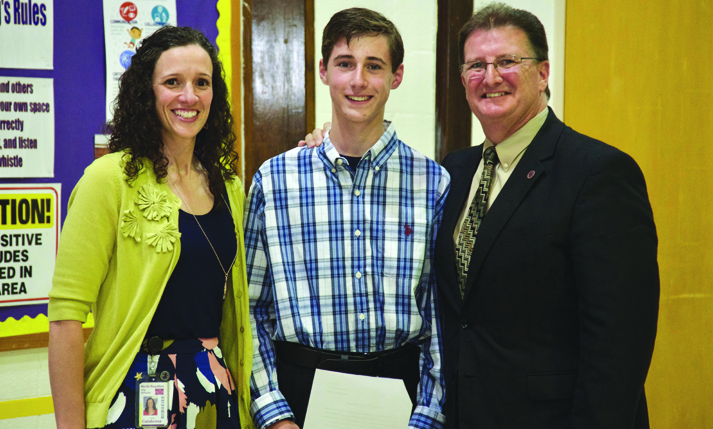 By GLORIA PLEVA KACIK
Contributing Writer